"We are the peoples choice"
aaaaa   agedddP&C Maihi Painters are a Painting and Decorating company located in the suburb of Wollondilly Shire, South-West of Sydney. The company is a family owned and operated business, run by the husband and wife team  who have been at the top of the Painting and Decorating industry since the company was established back in 1988.
OUR VISION
Producing a Painting Company with a Unique difference and Statement… "WE ARE THE PEOPLES CHOICE" Our dedication to our community will continue with yearly company participation in donating our time and expertise to a preferred charity organization.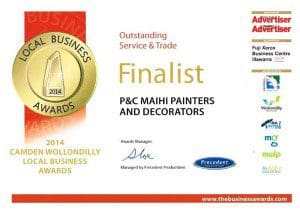 OUR MISSION
P&C Maihi Painters and Decorators is a family owned business which thrives to have a team of Professional Painters and Decorators who enjoy their work, thrive to grow and improve their qualities and skills and are loyal and happy working in the company.
We shall give back to our community by seeking employees with- in the local community who believe in honesty and integrity.
We will work within our culture to ensure that everyone who is touched by P&C Maihi Painters and Decorators team, will benefit in some way and move closer to the person they want to be by achieving their goals and dreams.
Our products and service will be of the highest quality and value offering specialized advice, effects and procedures when needed.
Our clients will want to deal with us because we understand people are important and there needs are respected.
Our dedication to our community will continue with yearly company participation in donating our time and expertise to a preferred charity organization.
ABOUT Maihi Painters
Our Painting career began in New Zealand working for a family business . Once moving  to Australia we worked for a couple of different painting companies where we furthered our knowledge and experience in the painting and decorating field and attained his painting license.  In 1988 we decided to open our own Painting and Decorating Business. We have  covered every specialized effect you can think of within the painting and decorating industry including; Tridex applicating, texture coatings, waterproofing, line marking, protective flooring , roof repointing and repaints, building repairs, feature walls, wallpapering , anti-graffiti barriers , granosite coatings and bagging, re-sealing of driveways and power washing and airless spraying. Some of the key projects we have completed over the years include hospitals, nursing homes, fuel refineries, Arnotts biscuits factories, Inghams chicken, factory schools, homes, walkways and unit blocks. With  profound skill set and knowledge  in the field being developed at a  young age  it has enabled us to create a great knowlegable and skilled team that offer a wide range of services domestic, commercial and industrial.
AREAS WE SERVICE 
We are proud to be able to offer our Painting and Decorating Services to property owners in the following areas in New South Wales:
Buxton

Bowral

Campbelltown 

Sydney

Wollondilly

Macarthur

Southern Highlands
CONTACT P&C MAIHI PAINTERS AND DECORATORS
You now know who P&C Maihi Painters and Decorators are but with our experience in the industry you will have some questions around hiring a Painter and Decorator and why you should use P&C Maihi for your Painting and Decorating Services. Visit the 'Why Choose Us' page to get your questions answered today.
Alternatively you can contact Pua and Colleen Maihi on (02) 4683 2442 to speak with us directly or send us a message via our Contact Page.
We always look forward to answering your questions.