Does your roof need some love?
The roof of your property, be it residential or commercial, is the most exposed part of the building and one that feels the brunt of Sydney's harsh weather conditions.
Most of the time, people don't really pay too much attention to the needs of their roof. It is often taken for granted until there is either a leak or one day they pull up in their driveway and realise that the roof is hurting the appearance of the rest of the building.
This neglect can easily be solved by hiring Roof Painters who will apply a fresh coat of paint, transforming the property and making it look like new once again P&C Maihi Painters and Decorators provide a professional Roof Painters Service for all types of residential or commercial roofs.
From tiled roofs to metal roofs, we have the knowledge and experience to help you choose the right roof painting materials and the techniques and skills to apply them in a way that will not only improve the appearance of your building but its longevity as well.
During the roof painting process we will:
Check the roof for suitability and damage
Clean the roof with our high pressure cleaning gear
Paint the roof with high quality painting products
Remove any rubbish and mess caused by our team
And we do all of this to budget and within the scheduled time frame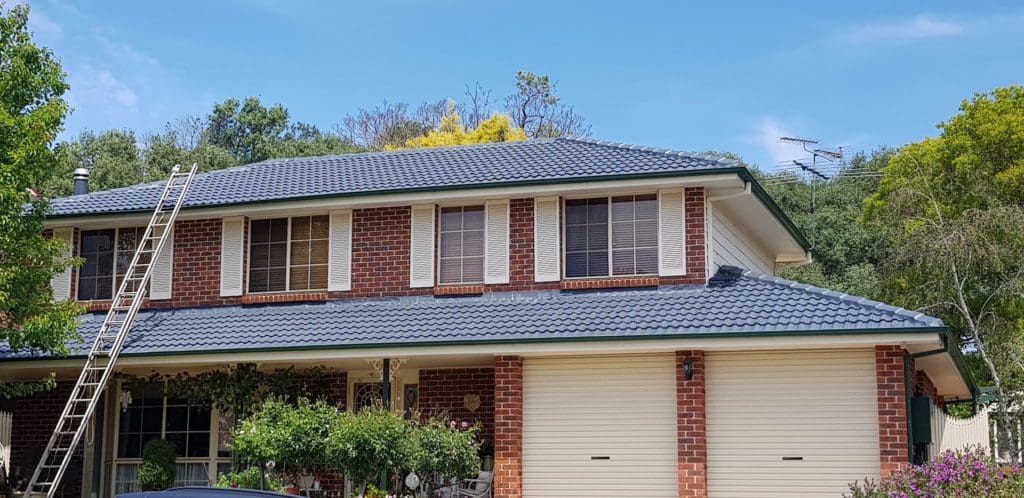 ADVANTAGES OF ROOF PAINTING
Give your home a refreshed look
One of the best ways to improve the look of your property, is to repaint the roof the same colour or you may be going for a completely new look which means a new colour. By repainting your roof you can take advantage of the latest trends and utilize the latest paint products. This means that not only will your roof look more appealing it will also last longer.
Seal up any areas that mimght be causing leaks
Over time and with the constant exposure to the elements, the roof of your commercial or residential property will become faded, cracked in areas and even damaged. As part of our roof painters services we will be able to notify you of any damaged areas that will need attention.
 To book give us a call on
02 4683 2442 or click to contact us
GET STARTED
I write to convey my sincere appreciation for the quality of works recently completed at my home premises in Eurelia Road Buxton. The preparation and painting of a 100 year old house requires special skill and patience, your attention to detail with the preparation and painting combined with the use of quality paints ensured a perfect finish. Both my wife and I noticed you took the time to do the job properly, confirming your motto "We have one standard of work, the right way". We were especially appreciative of the fact you were always approachable and understanding when last minute changes were made.
Scott Ridell – Premier Workplace Solutions – Buxton